Have you ever been a tourist in your own town?  Whether you live in the Comox Valley or not, you will be intrigued to explore our home after reading Ivo's post:
---
So we meet again, earthlings! 
I wouldn't close this tab if I were you because the Comox Valley is truly beautiful.  Today I am going to be writing about the best destinations of the Comox Valley.  Some of them are spontaneous, and some are just very calm and peaceful.  I hope that this post inspires some international visitors.  If you have any feedback, be sure to leave a comment. 
Now, as we all know, nearly every town has a very nice café or restaurant, and the Comox Valley has quite a few.  Whether there is chocolate, ice cream, or tasty dishes, standing beside them will have you drooling like my Labrador Retriever.  Here are a few examples:
Locals – This restaurant is quite pricey but is a perfect place to enjoy yourself.  If you are a seafood lover, try the West Coast seafood trio, which will fill up your tummy at the price of thirty-two or thirty-five dollars.  Vegetarian?  No problem, if you like baked portabella mushrooms.  This restaurant offers very perfected dishes.

 

Benino Gelato – This café, located near the Comox town park, offers delicious ice cream, yummy paninis, and coffee.  They have a huge variety of ice cream flavours, including pear, apple pie, and tiramisu.  If you are looking for an Italian dinner…
Martine's Bistro – …Italian food lovers, step right up!  You will love your meal, whatever you order.  The seafood linguine is extraordinary, with prawns, clams, smoked salmon, and more.  The pan-seared red snapper is also great, offering a side of creamy risotto.

 
Well, you won't be staying in Comox just to eat (hopefully), so look around, enjoy the scenery, and pick up a map!  Here are some beautiful destinations in the Comox Valley: 

Goose Spit Park – Here's a chance to use your track pants, and get a workout!  This brilliant beach is accompanied by 168 stairs, which are known by locals as the "Comox Grind", after Grouse Grind in Vancouver.  At the very top of these stairs, cameras will definitely be snapping beside you.  The view is even nicer on clear days, when the sunlight bounces off of the waves.  If you want a more quiet scenario… there is a beach beside Goose Spit, with an apple tree and an interesting bench.  If you bring a book and a coat, you can stay there all day.  It may be the most peaceful spot in the Comox Valley.

 

Nymph Falls – There is a short walk to the waterfalls, and if you stay in the summer, you can cool down in the tiny pools surrounded by rock.  Nature must know humans' interests very well because there is a natural waterslide, probably created over many years of erosion.  Staying at Nymph Falls is a lovely way to spend the entire day!

 

Paradise Meadows – This trail in Strathcona Provincial Park is remarkable, and you will feel that you could wander forever.  Paradise Meadows does live up to its name, summer and winter.  A combination of boardwalk and forest trail, it's very relaxing and peaceful.

 
There are also two other rather obvious things in the Valley; you'll see them as soon as you get here.  They are the Comox Glacier, and… deer.  Yes, our town is filled with hundreds of deer.  Slow down, and don't let them get caught in the headlights (ha ha!).  Though they can be a bit slow at times, their adorableness will pardon them, and… it will be a nice test of your patience. 
Unfortunately, some days in Comox will be rainy and gloomy, but there are always ways to entertain yourself and others indoors.  Don't just stay in and watch television.  Come on in to…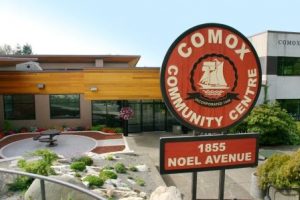 Comox Recreational Centre – Do you like sports?  When the weather does not look too good, stop by the rec centre to play sports in a gym, whack some table tennis (for free!), or to spend some time in the fitness gym. 

 

Courtenay Museum – Interested in history and paleontology?  If you are, come to this museum, where actual dinosaur bones are on display.  Also, if you would like to know more about the city of Courtenay, that is mainly what the museum offers.  Lastly, for some reason, I liked looking at the old packages of food, from the early twentieth century.

 

Comox Valley Aquatic Centre – Our pool has a wave pool, lanes, a steam room, hot tub, and more!  Personally, my favourite things to do are ride the waterslides, play catch in the wave pool, and relax in the steam room.  Even though my fingers will get very shrivelled, I could stay all day.

 
Well, that is the Comox Valley, a wonderful place to live.  If you have any questions or feedback, please leave a comment, and I will be sure to answer it as soon as possible. 
Thanks, and have a math-crammed day. 
Sincerely,
Ivo N. 
(Photo Credit for Peninsula: Guinness323, Wikipedia)
(Photo Credit for Local's: Local's)
(Photo Credit for Goose Spit: Comox Valley Regional District)
(Photo Credit for Rec Centre: Town of Comox)
---
What is special, unique, or outstanding about where you live? Let us know in a comment. Leave your url and we will visit you.