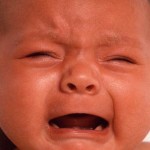 …that our year together is over.
Yes, I am a blubbering baby. I had such fun. I learned so much. I laughed so hard.
And I am not ready for this school year to end!
I do have fabulous memories of a great year. One of them is the making of our lipdub to celebrate the upcoming reunification of our school. Remember the day we taped it? Remember the Brooklyn Oscars? We do know how to celebrate, don't we? Take a look:

Brooklyn Elementary LipDub (May 2011) from Brooklyn Elementary School on Vimeo.
So farewell, fabulous Huzzahnian friends. I will follow your life journey closely–on and off blog.
Image: Crying Baby by bbaunach