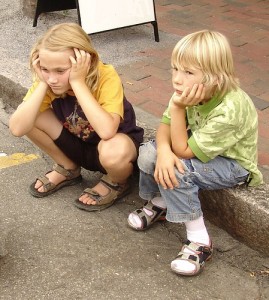 We have started DARE. It's a 10-week program designed to help students explore strategies and decision making options around personal safety and peer pressure, particularly in the areas of smoking, alcohol, and drugs. A "big idea" in the program is that we are in charge of our choices. Having options for ways to have a good time makes life fun and rewarding, and is an insulator against drifting into unsafe choices.
Huzzahnians know they have lots of options, which you can read on their blogs. Here are just some ideas from their 10 Cool Things To Do posts:
Biking through the woods, bushes and trees flying past as you speed down a rocky trail, you fly past a man walking his dog and realize that you're free. —Tyler
Swimming at lakes, rivers, beaches and pools is a great way to spend summertime or go to indoor pools in the winter. —Rebekah
Riding my bike to Co-op and buying a Slurpie. — Riley
Play badminton with my family in the back yard. — Priya
Karaoke: you get to sing and it is a super fun time. It is a great thing to do with family and friends. — Payton

Play on my Wii game system. —Matteo
Read graphic  novels that have some pictures because the pictures let me know what the characters look like and the background looks like. —Mark
Pat a dog. Dogs always appreciate it! —Rosa
Listening to music (that you like, of course) because the beat, rhythm, and lyrics that make you want to listen to the song all day. Eric
Photography:  it is not fast-paced but it is a good activity to calm yourself and it is peaceful.  —Easton
Writing is an activity that can also make my mood come back to normal if I'm really excited or really tired. I like to write songs and poems. Blogging–I love blogging! —Sierra
We think we have come up with a pretty thorough list of activities. What do you think? Have we missed anything? Let us know!
Image: Bored Children by zen (Thanks to Rebekah for finding this image.)